Le coeur du Délit et du Daily est composé des membres de ses équipes éditoriales, sans qui il serait impossible de publier chaque semaine et d'aider les étudiants qui écrivent dans nos pages à découvrir ce qu'est le journalisme. Nous avons demandé à nos anciens de nous parler de leur expérience au Délit et/ou au Daily et de nous dire comment leur temps parmi nous a eu un impact sur leurs vies.
(Les textes qui suivent sont écrits dans la langue choisie par leurs auteurs.)
---
Note: Par requête de l'auteure, ce témoignage a été publié tel que reçu, sous la forme d'une lettre signée.
Read Kateryna's testimonial here.
Kateryna Gordiychuk, Culture (The Daily, 2016-17)
I transferred to McGill in 2008 feeling generally alienated and disconnected my first year and I credit The Daily for being the vessel through which I finally felt like I was part of the McGill community. While I could write glowingly and at length about my personal experiences working at The Daily and how it prepared me for my career, I want to talk about how The Daily serves McGill as a whole. And I think the thing that I appreciated the most about The Daily was that it expanded the world I lived in making me a more connected and engaged person. There were so many issues, cultural events, and communities at McGill and in Montreal that I learned about through The Daily; things I would not have thought of or experienced on my own. Sometimes I disagreed with The Daily and that was OK—it didn't seek to proselytize, but only asked readers to consider things critically and from new perspectives. The Daily broadens the horizons of McGill allowing us to step out of our bubbles and explore what was happening in the city and the wider world. At a time when our worlds can feel more insular or narrow, there's nothing more valuable. (Maybe gold. The price of gold is doing pretty well.)
Eric Wen, Sports (The Daily, 2010-11)
In September 1972, I was a shy 17-year-old newcomer to Montreal and had just moved into Molson Hall to begin a 3-year program at McGill, majoring in Anthropology. One morning, my next-door neighbour, Libby Israel, showed me a front-page article she had written for the McGill Daily – with her byline. I was mightily impressed and told myself, I want one of those! The next day, I ventured down to the basement of the Union Building on McTavish (now William Shatner) and walked into the rather spartan and chaotic offices of the Daily. I was welcomed by a fellow holding a pica ruler who was laying out the next day's sports page. I was immediately entranced. In brief, I spent most of the next three years at McGill down in that basement helping to produce what was then a truly daily newspaper. I worked many late nights (and sometimes all night!) alongside a small crew of equally dedicated Dailyites (many of whom are today leading newspaper reporters, editors, film producers and business and cultural leaders). I eagerly covered a wide range of news events (including visits by Angela Davis, George McGovern, John Kenneth Galbraith and Lewis Mumford, to name just a few) and wrote scores of news articles and features. I edited copy, I laid out pages, I debated story ideas and angles… and I even delivered the laid-out pages to printer Dumont in the wee hours of morning. I learned key skills at the Daily that were critical to my subsequent career in journalism (Canadian Press, Montreal Gazette), in corporate communications (Alcan), and as a long-time freelance writer (including co-author of The Investment Zoo with Montreal billionaire money manager Stephen Jarislowsky, and author of Up and to the Right, a biography of Montreal financier and McGill Alumnus John Dobson.) I regard the Daily as the most valuable education I received at McGill (jobs in anthropology were scarce, after all!). I know I am not alone in this regard, as reflected by numerous testimonials given at the Daily reunions I attended in 1996 and 2011 (the Centennial). Coincidentally, I ventured down to the current Daily offices just a few weeks (after many years) and was delighted to meet a couple of students who were working there. They exhibited the same kind of enthusiasm and hopefulness that I did 45 years ago, and I could see that the Daily was already making a difference in their lives. Sadly, it seems the paper is yet again fighting for its survival, a challenge that we also faced several times back in our day, and I only hope that it will once again prevail. I for one wish it many more bound volumes!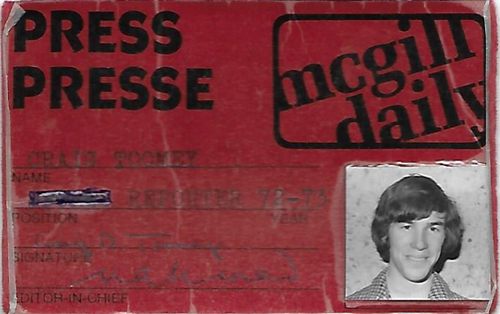 Craig Toomey, Reporter-Editor (The Daily, 1972-73), Associate editor (The Daily, 1974-75)
The offices of The Daily and Le Délit were my favourite place on McGill campus, and as anyone who has been there can tell you, it wasn't for their architectural splendour. For me, The Daily was both a place of learning and a place of community. In my years there, I acquired a set of skills too long to list, from conducting interviews to laying out pages for the print edition. The Daily and Le Délit offer this training to all interested students - truly an invaluable resource at a university that lacks a journalism program - but what I learned there has impacted my life far beyond the realm of journalism. The Daily challenged me to think critically, ask for more knowledge of the world than what is offered to us, and seek out connections and communities that may at first glance be hidden from us. These are skills I still employ in my scientific work and day-to-day life, and that I might be woefully short on had The Daily not existed.
Anqi Zhang, Coordinating (The Daily, 2013-14)
So far, I spent 3.5 years around the DPS, either as a contributor, editor or board member. It is through Le Délit that I learnt great tools that will be useful in my professional career, namely team working and leadership. I also discovered my passion for design there and have been able to learn and master professional design softwares which I use daily. My years at Le Délit were the hardest university years I had to endure, for the balance between work and studies is often hard to find. Nevertheless, it is through Le Délit that I was able to have a unique experience at McGill.
Yves Boju, Correction (Le Délit, 2015-2016), Production (Le Délit, 2016)
I have fond memories of my time at the Daily, but I hope it sticks around for more than my own nostalgia: A thriving student journalism landscape is necessary to prepare students for a variety of careers in media, and can benefit anyone who will need to communicate with other humans as part of their job someday. I studied physics at McGill, and worked for the Daily in my free time. Thanks to experience I earned in both the lab and the newsroom, I currently work full-time as a journalist covering science and technology for major news outlets. The Daily taught me how to do an interview, write a feature, and talk about quantum mechanics in a way that will engage readers for more than four seconds.
Shannon Palus, Science+Technology (The Daily, 2010-12), DPS Director (2012-13)
Mes deux ans en tant que contributeur et éditeur au Délit m'ont permis d'accroître ma culture générale, travailler mes capacités journalistiques et contribuer à informer la population mcgilloise. Surtout, j'ai eu la chance de travailler avec des jeunes engagés au sein d'une équipe très soudée. Les journaux étudiants sont un camp de formation hors pair, et en tant que seul journal francophone à McGill, le Délit est un élément essentiel de la vie sur la campus
Ronny Al-Nossir, Innovations (Le Délit, 2016-17)
For me, The Daily was a second home, a place where I learned the basics of journalism – how to interview, fact-check, write, and edit – but also where I could debate, learn, collaborate, and engage with a broader community than I would have otherwise.
The Daily and Le Délit are important institutions, not just for the current students who work on or read them, but for the histories of McGill and Montreal that they have recorded and reported on for over 100 years.
Queen Arsem-O'Malley, Coordinating (The Daily, 2013-14)
Ayant travaillé pour une année en tant que coordinatrice réseaux sociaux, je peux dire que le Délit m'a énormément apporté dans plusieurs sens. Le journal m'a d'abord permis de me pencher de plus près sur le milieu du journalisme, milieu qui m'attire depuis un très jeune âge. Cela m'a fait réaliser les réalité de ce domaine, le travail qu'il faut y dédier, et m'a donc apporté une certaine éthique de travail et de rigueur que je n'aurais pas seulement pu acquérir avec mon travail scolaire. Le Délit m'a également permis de mieux découvrir les réalités du travail d'équipe. Cela a parfois été difficile, mais le résultat et les éclats de rire qui ont été le résultat du travail acharné en valaient la peine. Je garde énormément de bons souvenirs du Délit. C'est une expérience inoubliable que je souhaite que tout le monde qui aime le journalisme puisse vivre un jour.
Louise Kronenberger, Web (Le Délit, 2016-17)
Having had the pleasure to work at The McGill Daily, I was convinced that The Daily serves a unique role in the McGill student community. The paper's very specific mandate allows us to draw and bolster non-mainstream insights on critical matters happening within and around campus that many students are normally not exposed of. This creates a healthy platform that invites critical thinking, reflections and constructive discussions on issues that deserve more awareness. As long as there are important issues outstanding and not discussed, the existence of The McGill Daily remains very necessary.
Kevin Tam, Photos (The Daily, 2016)
Le 5 avril 2016, lorsque je suis rentrée chez moi vers 3h du matin, après ma dernière soirée de production en tant que rédactrice en chef du Délit, je me vois encore dire à mon meilleur ami et chef de production: «Je crois bien que c'est la meilleur job que j'aurai avant au moins une dizaine d'années!» Je ne pourrai en aucun cas vous faire une liste exhaustive de ce que Le Délit m'a apporté pendant mes années de baccalauréat: j'y ai rencontré mes meilleurs amis, j'y ai écrit mes premiers articles, j'ai appris à gérer une équipe d'une vingtaine de personnes, j'ai pu faire des entrevues avec des grandes personnalités politiques ou artistiques, j'ai étudié les rouages de McGill et de sa politique étudiante, j'ai pu participer à la création d'un journal de A à Z… C'est l'expérience qui a eu le plus d'impact sur la personne que je suis devenue à McGill. Le Délit a eu 40 ans cette année. Lors de sa célébration d'anniversaire, de nombreux anciens, très émus, sont venus nous raconter ce que Le Délit signifiait pour eux. Cinq points sont ressortis de chacun de ces discours :
Le Délit est une source d'information indépendante pour les étudiants. C'est un véritable luxe aujourd'hui d'avoir accès à des informations libres, indépendantes et ne subissant pas la pression d'intérêts extérieurs (administration, AÉUMA…). Le Délit et la Société des publications du Daily sont fiers de continuer à offrir cela aux étudiants de McGill.
Le Délit est une école de journalisme pour les étudiants de McGill. Chose très étonnante, notre université n'offre pas de programme de journalisme. Les journaux étudiants de McGill ont donc pris cette place: au Délit nous apprenons à nos contributeurs à écrire des articles, à mettre en page, à participer au processus éditorial…
Le Délit est un des bastions de la promotion de la francophonie sur le campus. McGill est censée être bilingue… et nous tâchons de continuer à le rappeler aux étudiants, aux associations et à l'administration. En plus d'écrire en français, nous défendons la cause francophone, organisons des évènements de promotion de la francophonie et entretenons des liens forts avec les autres associations francophones du campus.
Le Délit c'est une part d'Histoire de McGill. 40 ans ce n'est pas rien! Rien que l'apparition d'un journal francophone en 1977 à McGill est un fait historique à lui tout seul. En piochant dans les archives du Délit, on ne peut qu'être impressionné par la façon dont les équipes antérieures ont relaté – mais aussi fait – l'histoire de McGill et de Montréal. Pour en être convaincu, il suffit de se rendre dans les bureaux du Délit :un grand bazar qui se révèle être un véritable musée.
Le Délit c'est une expérience humaine. Voir toutes ces anciennes équipes éditoriales se réunir pour parler de leurs expériences inoubliables au Délit était un moment d'émotion incroyable. Certains anciens membres du Délit forment encore des groupes d'amis 20 ans après, d'autres se sont même mariés!
Les équipes du Délit et des publications du Daily sont ma famille de Montréal! Longue vie au Délit!
Julia Denis, Contributrice & chroniqueuse (Le Délit, 2013-14), Chef de section Société (Le Délit, 2013-15), Rédactrice en chef (Le Délit, 2015-16)
What did The Daily mean to me?
The years that I spent as a writer and later a News Editor at The McGill Daily were some of the most tumultuous of my life. I dove head first into a bustling world of news articles, interviews, protests, production nights that bled into the early mornings, heated debates, lifelong friendships, coffees at midnight, last minute trips… I wouldn't trade anything for those experiences. They have been some of the most enriching of my entire life, and they have propelled me towards a career in research and writing.
Jessica Lukawiecki, News (The Daily, 2011-12)
The Daily was a formative experience that acted as my primary training ground in community journalism, the ethics of writing about stories from a grounded perspective, and mediating an open space. These are real-life skills that I have taken throughout my life to other fields. As another form of education that is based in hands-on work and engagement with the McGill and greater Montreal community, the independence of The Daily makes for a platform for critical voices that otherwise go unheard.
Hera Chan, Photo (The Daily, 2012-13), Multimedia (The Daily, 2013-14)
My name's Erin Hale, I'm a freelance journalist based in Asia for the past few years. I was a news editor at the Daily from 2008 to 2010. I spent most of my free time as a student at McGill in the Daily's basement office – and while my grades certainly suffered I can say that experience is the main reason I'm a journalist today. In fact, before I came to McGill, I never thought about being a journalist but within a few months of joining the Daily's news team I knew that I wanted to make it my career.
The Daily is where I learned skills like how to write a news story and conduct interviews but also more broadly how to think about "big picture issues" in our editorial discussion meetings and the role of the media.
An important thing to know about journalism is that you can only get better at by practicing over and over (and also making mistakes.) The Daily provides aspiring journalists with the safe and creative space to do that and also guidance from peer editors.
Whether you agree or disagree with the Daily's editorial line, it's a very important place for aspiring journalists to get their start. Many of the editors and writers I worked with as a student also ended up working at major media outlets or have moved on to other interesting careers in law and academia. I hope all students vote to support the Daily and continue the work of one of Canada's oldest student publications.
Erin Hale, News (The Daily, 2008-10)
The Daily was the best possible journalism school. We learned by doing – incredibly, it now seems to me, putting out a newspaper twice a week. (Once a week is a feat, too.) The work involved was vast, but we enjoyed it, loved it even – and more importantly we thought it was important. The Daily has always been an idealistic place, and even if you disagree with its politics (as I sometimes did while working there), its devotion to the life of the McGill community has been and remains invaluable. That phrase, "McGill community," can be written off as an oxymoron, but the school's amorphous quality makes a good independent student newspaper all the more important. Yes, the Daily moulds good journalists (editors from my cohort have worked at the Toronto Star, The Globe and Mail, The Christian Science Monitor, Slate, The New Republic and lots of other places), but more crucially it gives the student body a place to receive common facts about itself, yell at one another, learn from someone other than a prof, and especially to feel a little more knitted together in a place and a historical moment where that is a gift in short order
Eric Andrew Gee, Features (The Daily, 2011-12)
My time with The McGill Daily was the highlight of my years at McGill. I wrote my first commentary article very early in my first year, and I was immediately hooked. I had no intention of becoming a journalist before nervously stumbling into The Daily office, but when I left, doing so was my only option. After McGill, I did a Masters of Journalism at Ryerson University. While that degree was certainly helpful, I still believe my time with The Daily was the best crash course in journalism I've received. I not only learned the skills of how to be a good journalist, but also discovered an ethos of journalism that I've taken with me throughout my entire career. Since leaving McGill, I've gone on to work at Vice, the National Post, and The Globe and Mail. I've also had articles published in Al Jazeera, BuzzFeed, The Walrus, Maisonneuve, the Huffington Post, Canadaland, and many more. None of this would have been possible without my time at The Daily.
Davide Mastracci, Commentary columnist (The Daily, 2011-12), Copy (The Daily, 2013-14)
It's a common refrain but one that bears repeating: I learned more working at The Daily as a writer and then editor than I ever did, or ever could, learn in my classes. School newspapers provide critical thinking skills and real life experience. Most importantly, The Daily's particular political standpoint is intensely valuable: it broadens the limited perspectives of McGill students and exposes them to worlds they never knew.
Dana Wray, News (The Daily, 2013-14), Coordinating (The Daily, 2014-15)
When I started as the photos editor for the Daily, I immediately felt welcomed by the editorial board. Working as an editor kept me on time, coordinated, and professional in and outside the office. The McGill Daily is also run very professionally. Everybody listens to each other and considers each voice before making decisions. Having never worked on an editorial board before, I learned a lot about working with others and working on a tight schedule, and I feel more prepared for professional work as a photographer after working at the Daily.
Conor Nickerson, Photos (The Daily, 2017)